Our economic forefathers have always reiterated how, as a small nation, the people will always be our natural resource. While Singapore is on a constant need to bolster and reinforce its human workforce to enjoy sustained economic growth, the criteria in selecting the right candidates for Singapore Permanent Residency remain strategically vital to the country. With thousands of Singapore PR applications going through review monthly, it is important for applicants to fully understand some of the contributing factors* affecting their applications. These includes but not limited to:
Applicants' Age: In view of the official retirement age of 65 years old, candidates for Singapore PR should consider their ability to provide a significant contribution to the economy and/or society for a period of time. While a younger candidate provides time and youth on their side, older candidates brings about a wealth of knowledge and experience.
Duration of stay in Singapore: One of the ways the Singapore Government accesses the commitment on candidates to be considered for Singapore PR is to give high consideration on those that have physically stayed and/or remain employed within Singapore for a specific period. It is deemed that this gives the candidate sufficient time to familiarise with the local community and culture and make informed decisions on their Singapore PR application.
Education: As a progressive nation, Singapore looks toward well-balanced candidates that are proficient in both academic and professional experience in the respective industries and sectors. Conversely, technical qualifications will also be heavily considered for skilled-specific positions.
Industry & Employment: What are some of the key industries that drives the Singapore economy? As a global hub for various key sectors, employment and expertise in such sectors may be the difference in granting you Singapore PR over other applicants. Another consideration in this factor is if the industry is one that is only seasonal or brief and if the employment terms of the candidate is long term or merely assignment-based.
Income & Economic Contribution: Many would assume that the income bracket is the key driver for PR approvals. While this is not entirely true, it is imperative that applicants understand the concept of a holistic contribution. Regardless the position in one's employment, all manner of contribution counts. To be considered as a strong candidate, the applicant's contribution to the economy and country is integral. This includes both the earning potential and spending power within Singapore.
Kinship and Family Ties: Candidates who have existing family and relatives that are already Singapore PRs or Citizens may stand a stronger chance as it is generally favoured for family circles to keep within close proximity and to further sink in their roots into an ever growing and expanding multiracial society in Singapore.
Social Integration: In addition to economic contribution, as a small country, contribution to society has been seen lately as a key factor in applications. Be it an investment of a monetary kind or volunteering of time and effort, integrating with the society indicates a strong desire to blend into the country's culture and norms.
Special Commendations: Individuals who have accumulated special commendations, awards and recognition on a professional or personal level can use their accolades to gloss their PR applications to showcase what makes them different from other candidates.
Talent: Candidates with special talents and skill sets will have a unique edge over others. This will also depend on what these talents are and to what potential can these talents elevate the individual and the community. For example, such talents may include but not be limited to individuals who have a track record in sporting and/or artistic excellence.
*Factors are to be accessed holistically as a whole, relative to each other, rather than just focusing on a single component such as Income.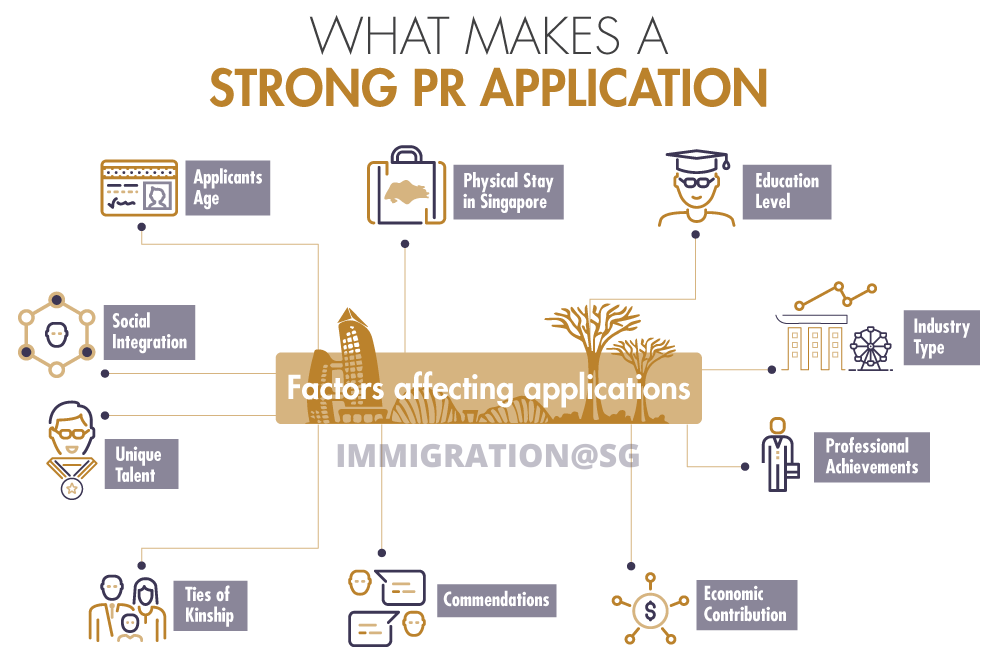 How can Immigration@SG (IASG) help?
IASG's track record in Singapore PR applications remain stellar. We have helped individuals and families from countries such as India, China, Philippines, U.S.A, South America, Australia, Malaysia, Japan and Korea amongst many others.
Our intimate knowledge on Singapore's immigration and employment policies will prime both Employers and/or the direct individuals to have a hassle-free experience in the application process. We will handle all application matters from paperwork, liaison with the various ministries, the application proper, as well as post-application matters, where required. More importantly, clients can tap on our expertise on all advisory matters to ensure a smooth application process and higher chances of approval.
To understand more and take your first step towards a Singapore PR, arrange for a FREE consultation with our Immigration Specialists now. In this consultation, our Immigration Specialists will seek to understand your true motivations and reasons behind the application, do a full analysis on your chances, as well as advise you step-by-step what your next course of action should be.
Any issues pertaining Singapore immigration, permanent residency, and citizenship requires in-depth knowledge of policy & documentation matters. If you have any questions or seek answers on the matter, contact us at https://www.iasg.com.sg/contact-us/ and we will be more than happy to help.