Singapore PR Applications

| Benefits of Being a Singapore PR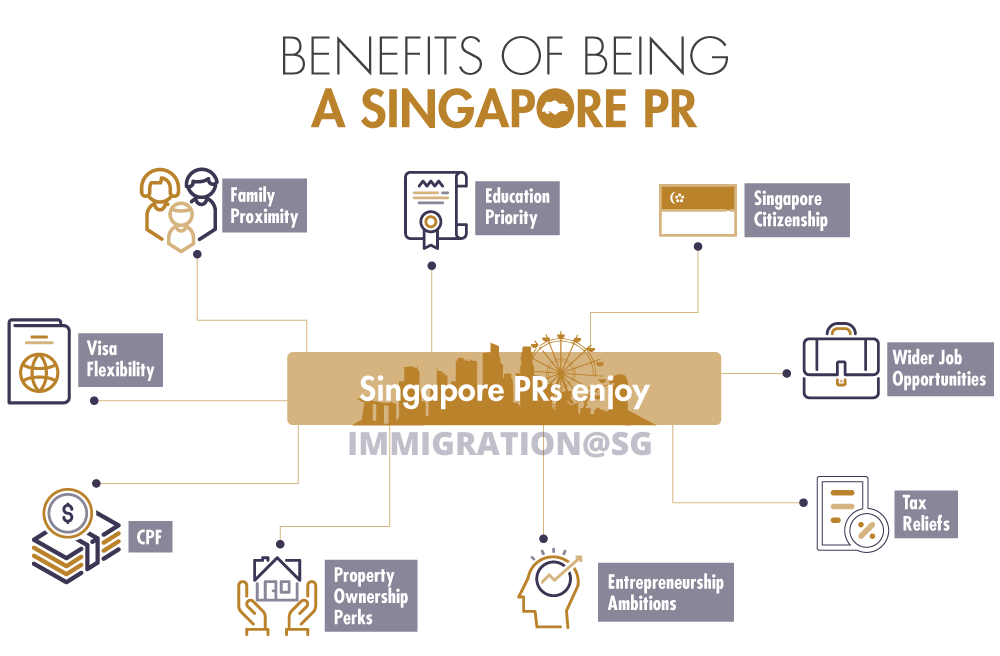 A Singapore Permanent Resident (SPR) refers to someone who has been given Singapore PR status by the Immigration and Checkpoints Authority (ICA) of Singapore. However, they are not full-fledged Singapore Citizens.
Singapore PRs have the right to live, work and integrate into the fabric of Singaporean society just like ordinary citizens. As a Singapore PR, one stands to enjoy, among other things:
Visa Flexibility: A Singapore PR will have no visa restrictions entering into Singapore and can also remain in Singapore for an unlimited period of time as long as their Singapore PR status remains valid.
Family Proximity: As a country that values family togetherness for a strong social fabric, Singapore PRs have the option to obtain Long Term Visit Passes (LTVP) for parents, spouses and children.
Education Priority: To take advantage of a well-structured educational system, Singapore PRs will be given priority placement for their children should they chose to enroll them in Public (Government) schools. In addition, the cost of education of children of SPRs will be subsidized by the Government to make it more affordable.
Career Flexibility: A Singapore PR will no longer be required to secure Employment permits and passes from Employers and will have access to more jobs locally, including Civil Service positions. As such, being a Singapore PR opens doors to employment opportunities and gives freedom from the uncertainty of securing permits and passes.
Comfortable Retirement: Singapore PRs will benefit from the Central Provident Fund (CPF) – a highly modeled-after pension scheme. This ensures that Singapore PRs will have a peace of mind and a growing golden nest for retirement while excelling in their careers.
Property Ownership Perks: For Singapore PRs who intend to invest and commit to a property, they enjoy property ownership inclusions such as significantly lower Stamp duties as compared to non-PRs. Besides this, Singapore PRs will be able to use their CPF Ordinary Accounts to offset monthly house loan payments.
Tax Reliefs: With valid commitment to stay in Singapore, the government recognizes that help is required from time to time in the form of reliefs. Singapore PRs can look forward to receive various monetary benefits on taxes as well as ease of bank loan approvals.
Entrepreneurship Ambitions: Singapore PRs looking to incorporate companies can go through smoother processes and/or maintain majority shareholding in setting up of businesses without the need for a local (nominee) director.
Citizenship: For individuals who are considering making Singapore their permanent home, securing their Singapore PR marks the first step toward gaining Singapore Citizenship.
Get your Free Consultation & Case Evaluation!
Or fill up the form below to arrange a consultation with our us.