Since the Covid-19 virus hit our shores in early 2020, we have observed increased inquiries from foreigners. This includes Singapore work pass holders already working in Singapore, existing Singapore PRs and Citizens who are looking to sponsor their loved ones, as well as investors / business owners looking to set up operations in Singapore for the first time, with the objective of securing PR and possible Citizenship in the future.
Singapore Immigration Policies and Preparation Work is Highly Confusing and Time Consuming
While applying for Singapore PR and/or Citizenship may seem straight forward at the on-set, more often than not, applicants' soon encounter several 'challenges' that stops them dead in their tracks. From negotiating and understanding the Singapore immigration policies, to understanding the quota systems in place, extensive documentation requirement, and quite simply a lack of reliable information and know-how to see applications through.
Seeking for Answers and Professional Help
This leads applicants to conduct further research and seek help online, either through forums (where comments usually comes from poor opinion leaders who does not have real knowledge), or through immigration consultancies that peddles their firm's expertise that promises approvals with 'high success rates'.
In this unprecedented times, every business is fighting to survive. Unfortunately, some do so by adopting unethical business practices, at the expense of consumers. In a game of stakes that has seen competition rise, and with so much uncontrolled and unverified information and claims floating around, how then does one make an informed decision on the right partner they can trust with for their Singapore immigration needs?
How is IASG different?
Immigration@SG LLP is built upon the values of integrity and trust. We are not in the business of promising approvals because at the end of the day, applicants must understand that the final say on all applications comes from the Singapore Government.
Our promise is to ensure that clients are best well-represented in their application, in accordance to their respective backgrounds and profiles. In preparing applications, we ensure that documentation and strategy is in line with available policies, upcoming trends, insights derived from extensive research, and exclusive information made available through our strong network and relationships with the various ministries including ICA, MOM, and EDB.
Clients who chooses to partner IASG can be assured that they will benefit from:
1. Professional & Knowledgeable Consultancy Service
In the inbound Singapore Immigration space, there are many types of firms that peddle their expertise to help you attain approvals on your applications. Different types of firms possess different levels of knowledge, resource allocation, techniques, that affect quality of overall delivery.
They can broadly be categorized into the following :
i) Form-Filling Companies
As the name suggest, these firms only help applicants populate the necessary application forms. Whether or not they have real knowledge of policies and putting together documentation that makes for a compelling submission on top of the official application forms will have to be evaluated by the client. As immigration can be a complex process, the lack in breadth to advise clients on various immigration matters may potentially jeopardise applications.
ii) Singapore Company Incorporation and Immigration Services
The core service offering for such companies are usually company incorporation, advise on taxation, and relocation services for both inbound and outbound Singapore immigration. While they may posses the necessary required knowledge, clients need to spend some time to analyse if the firm's focus may be widespread and thus, may not necessarily be specialists for purely inbound Singapore immigration work.
iii) Full-Fledged Immigration Law Firms
Focused on advisory on corporate immigration law at Business-to-Business levels, applications for Singapore PR and Citizenship are usually complementary services on top of their bread and butter. Similar to the above, these firms may posses the necessary knowledge, however may not necessarily be specialists for inbound Singapore immigration work.
iv) Immigration Consultancy
Inbound Singapore immigration consultancies primarily focuses on actual inbound immigration work for PR, Citizenship, as well as work pass applications. There are many firms out there with varying levels of industry experience, knowledge, track record and professional specialists serving clients. Client need to exercise due diligence in to differentiate actual experts from fluff.
Different types of firms serves clients with different needs and budgets. As with all products and services, you get what you pay for. Hence, it is important that you understand the dynamics and abilities of the firm that you engage.
For IASG, we position ourselves somewhere between an Immigration Consultancy and an Immigration Law firm. Our clients benefit from the processes and systems we have in place derived from relevant ministry experience doing inbound Singapore immigration work. We are also professionally set up to ensure that personnel are equipped with the relevant immigration policy knowledge that allows them to always dispense accurate advisory to solve various client needs. We have also maintained transparency on our processes, track record and the knowledge we have within the firm so that clients can make informed decisions before partnering us. These factors combined, translates into actual quality in deliverables and customer service.
2. Honest and Ethical Business Practices

In lieu of Covid-19, where securing PR / Citizenship statuses becomes more time sensitive, questionable business practice are unfortunately, on the rise.
IASG is in the business for the long run. Since 2014, we have been running an adopted an honest & ethical practice that has produce a steady stream of satisfied clients to date. This can be evidenced through our client testimonials, as well as the nature in which we conduct our consultations and advisory. As competition for Singapore PR and Citizenship quota is high, clients must take heed in falling to false claims & hard sell pressure tactics. Before parting your hard earned money and engaging a firm, you must ensure that you are comfortable with the experience and offer presented.
It is important to note though that deceptive advertising does not represent an entire industry, although it takes up a considerable percentage of the advertisements you will encounter every day. However, there will always be companies out there looking to dupe consumers and make money in any way that they can. And this is very true as well for the Singapore Permanent Residency / Citizenship consultancy industry  – whereby a growing number of hopeful applicants fall prey to dubious claims from unethical companies.
3. Abiding to Government Standards and Policies
As fronting applications can be a complex and time consuming process, partnering a firm that has real, genuine knowledge of the various government standards and policies is paramount. This truly differentiates your application from others, or if you were to do it grudgingly on your own.
IASG's in-depth knowledge of Singapore immigration laws and policies, as well as extensive experience in handling a myriad of immigration cases, allow IASG to offer clients sound and strategic immigration advice with full compliance with the local laws and regulations.
The amount of care and resource IASG allocates to each case is the main reason why IASG typically plans out each case in a structured format that has served past clients well.
4. Efficiencies of a Larger Firm (Manpower, Speed, Bandwidth, Customer Service
Contrary to common believe how smaller, boutique firms offer a more personalized and wholesome experience, the efficiencies of having a large team supporting each application is key. Each case at IASG is supported by dedicated a consultant, document specialist, and document controllers, all of which are highly adept to ensure you are best represented. IASG's management also maintains relations with various industry counterparts, to stay current and relevant in the work we do. IASG also dedicates a research team, to ensure that all client cases complies with policies and analyse industry trends.
In compartmentalizing tasks, IASG can also take on urgent and expedited client cases or where required, deliver cases and complete submissions swiftly. This is key for clients with specific deadlines or have time-sensitive strategic needs.
5. Actual Experience and Genuine Ministry Background
IASG's strategy, processes, and approach stems from genuine and relevant immigration experience, and not simply a lip-service. While many can claim they possess the relevant chops, few back this up with transparency. We put up and publish the backgrounds of key personnel, whose relevant experience has shaped the way we prepare client cases.
Further, each staff at IASG will go through rigorous training, before they are entrusted to handle cases. At present, we have assembled a team comprising of experienced professionals across varying sectors in Multi-National Corporations (MNCs). We combine the best minds from diverse backgrounds to form a professional, intelligent, dynamic, and well-rounded team.
6. Success Rates that is approximately 10% above the industry average
Annual Singapore PR Application success rate is a measure of the total number of application approvals meted out annually by ICA under their Selective Immigration policies. Since 2016, there is an estimated 100,000 – 120,000 applications filed.
With an average of 30,000 – 32,000 applications approved annually; we derive the actual Industry Success Rate at ICA to be at 32%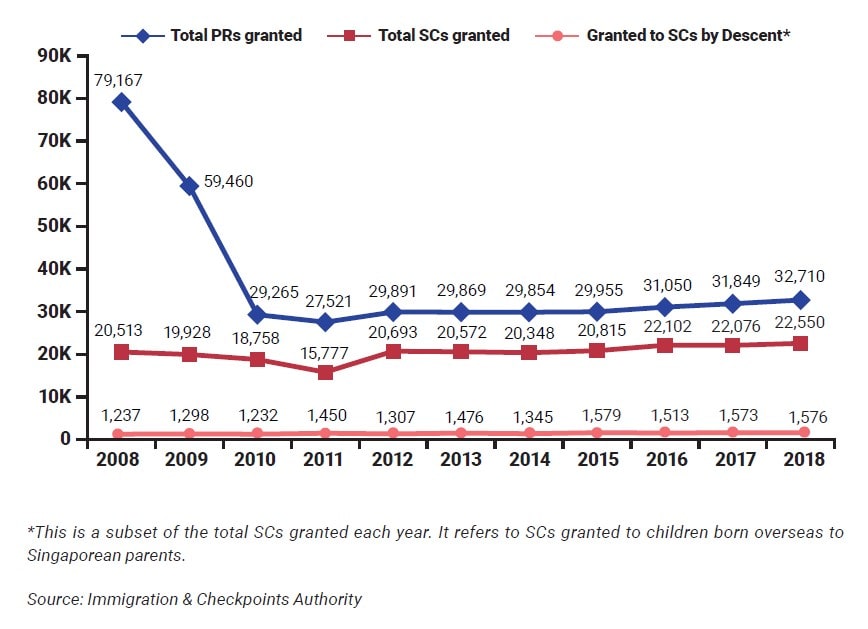 We derive our success rates by bench-marking the total number of our client approvals attained annually against the total number of clients served. While we consistently strive to improve on this, we would also like to have transparency with all our clients that with the Quota System in place to prevent a severe imbalance of foreigner to Singaporeans/PR ratio, ICA maintains full discretion on the profiles to be approved.
This is due to our intimate knowledge of Singapore's immigration and employment policies and deep understanding of ICA selection criteria pertaining applications. With this, our approach to each client application is focused on :
Conducting an initial profile analysis to understand gaps in the profile
Providing profile strengthening insights and preparation of beneficial supporting documents
Completing a Documents Package that ensures the best possible representation of the client's profile to ICA
In summary, we have always taken pride in providing and dispensing the best advisory and strategy to reach the common goal of strengthening applications to achieve approvals. Often, it is always that little bit of extra effort put in that makes the difference in getting across the finishing line.