We at IASG promise to professionally map out your Singapore PR application from start to finish based on our specialist knowledge in immigration policies. Having worked with thousands of applicants, our system is not only proven, but systematically handholds all our clients that choose to work with us through the process in a manner that is designed to provide minimal hassle. IASG will:
Schedule an initial profile analysis with all interested clients, free-of-charge. This is a key phase in the entire application process as we will use this session to understand clients' background, reasons to apply for PR as well as analyse clients' current strengths and weaknesses in relation to what the Singapore Government is looking for in PR candidates. Clients can also use this session to clarify any queries pertaining the application and immigration matters.
Provide insights into strengthening your profile – With skill sets and background information in, IASG will be able to map out your individual strength as an applicant against industry benchmarks as well as what the government typically is looking for in candidates at a specific point in time. IASG will provide advisory and instructions that can help boost your chances significantly.
Professional advisory at all phases – IASG provides complete professional advisory across the entire phase of the application process beginning with the initial analysis, followed by the documents compilation, through to submission and finally the post outcome phase, before clients actually become an official Singapore PR.
Complex immigration issues – We understand that there may be individuals whose application will not be straightforward. Applicants that have complex immigration issues prior to submission will receive added attention as we strategize from a legal and professional standpoint, a structured approach on solving such issues. We will also provide post-application assistance when required to ensure a positive outcome.
New Policy updates – At any point in time while working with us on the PR Application, as and when ICA or any related government agencies met out new policies or updates to existing policies that affects one's PR Application, we will ensure that such information is communicated clearly to all clients, especially if such policy changes can impact the application.
Booking of ICA eAppointment – We will make it our responsibility to set up clients' ICA eAppointment according to their preference or whichever date that is in their favour based on our recommendation. For clients who have difficulties obtaining an earlier ICA eAppointment date, we can accelerate their ICA appointment for them.
Comprehensive guidance and checklists – IASG has developed our own set of checklists that is designed to provide the most comprehensive guidance for both Mandatory and Supporting documents as required by ICA for all Singapore PR applications.
Professional Computer softwares – We adopt a computerised filling up of all Singapore PR Application forms (as opposed to handwritten forms) to maintain professionalism and eliminate errors due to illegible handwriting. We will provide a complete set of editable application forms to all our clients in the event a re-application is necessary. This avoids the hassle of starting the entire application process again from scratch.
Strong error-free documents preparation – Close to the scheduled ICA eAppointment date, we will compile and prepare a complete, strong error-free documents package for ICA submission. The documents package, will receive adequate scrutiny and run-throughs by our legal team and immigration specialists before formal handover to clients.
Should there be any ad-hoc complex issues that may arise close to ICA eAppointment date, rest assured they will be addressed before submission to ensure that all applications prepared by IASG receives full and fair attention.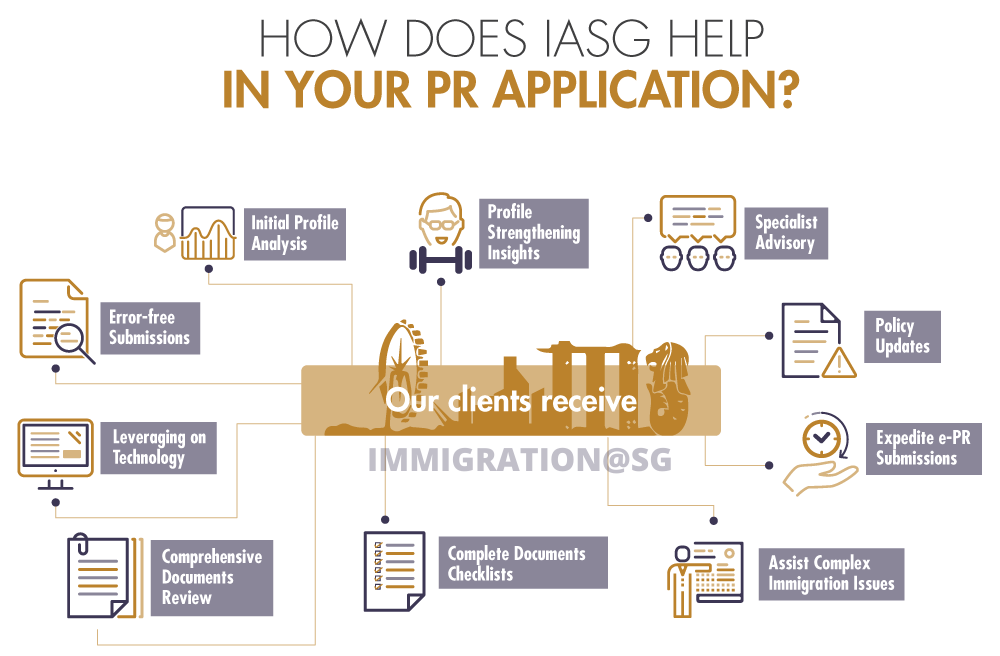 Can we really help?
IASG's track record in Singapore PR applications remain stellar. We have helped individuals and families from countries such as India, China, Philippines, U.S.A, South America, Australia, Malaysia, Japan and Korea amongst many others.
Our intimate knowledge on Singapore's immigration and employment policies will prime both Employers and/or the direct individuals to have a hassle-free experience in the application process. We will handle all application matters from paperwork, liaison with the various ministries, the application proper, as well as post-application matters, where required. More importantly, clients can tap on our expertise on all advisory matters to ensure a smooth application process and higher chances of approval.
To understand more and take your first step towards a Singapore PR, arrange for a FREE consultation with our Immigration Specialists now. In this consultation, our Immigration Specialists will seek to understand your true motivations and reasons behind the application, do a full analysis on your chances, as well as advise you step-by-step what your next course of action should be.
Any issues pertaining Singapore immigration, permanent residency, and citizenship requires in-depth knowledge of policy & documentation matters. If you have any questions or seek answers on the matter, contact us at https://www.iasg.com.sg/contact-us/ and we will be more than happy to help.