Singapore PR Applications

| How Does IASG Help Boost Applications?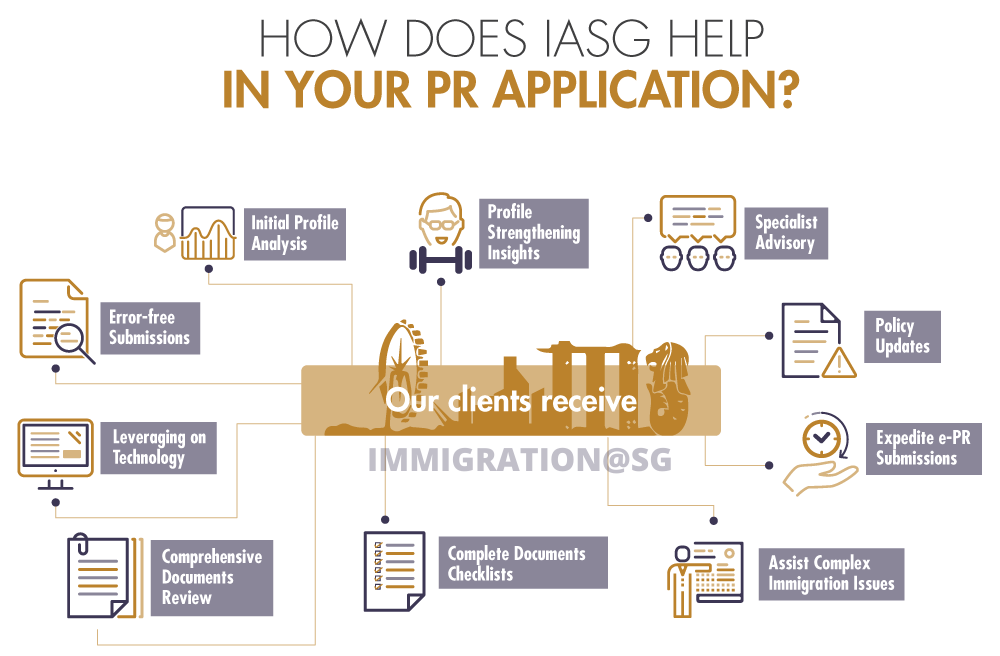 We at IASG promise to professionally map out your Singapore Permanent Residence application from start to finish based on our specialist knowledge in immigration policies. Having worked with thousands of applicants, our proven approach systematically guides you through the processes in a manner that is designed to create minimal hassle.
At IASG, we are committed throughout the application process from start to finish, including post-outcome advisory. During the entire journey, IASG will provide :
Initial Profile Analysis: We will perform an initial profile analysis with you. This is a key phase in the entire application process as we will use this session to understand your background, reasons for applying for Permanent Residence as well as analyse your current strengths and weaknesses in relation to what the Singapore Government is looking for. You can also use this session to clarify any queries pertaining to any application and immigration policy matters.
Profile Strengthening Insights: Once we know your skill sets and background information, we will be able to map out your individual strengths as an applicant against industry benchmarks as well as what the Government is typically looking for in candidates at a specific point in time. We will provide advisory and instructions that can help boost your chances significantly.
Professional Advisory At All Phases:  We provide you with complete professional advisory across the entire phase of the application process, beginning with the initial analysis, followed by the documents compilation through to submission and finally the post outcome phase before you become an official Singapore Permanent Resident.
Handle Complex Immigration Issues: We understand that your application may not be straightforward. Should you have complex profiles prior to submission, you will receive added attention as we strategize from a legal and professional standpoint using a structured approach. We will also provide post-application assistance when required for the best outcome.
New Policy Updates: Policy changes can be abrupt and often. At any point in time while working with us on your Permanent Residence application, as and when ICA or any related government agencies mete out new policies or updates, we will ensure that such information is communicated clearly to you, especially if such policy changes directly impacts you.
Expedite e-PR Submissions: We will make it our responsibility to expedite your case via ICA's new e-PR submission system according to your preferred schedule, taking into account our recommendation. If you have important datelines to meet for submission (expiring pass), we can accelerate your case on an urgent basis without any compromise whatsoever to the quality of your application.
Comprehensive Guidance and Checklists: We have developed our own set of checklists that is designed to provide the most comprehensive guidance for both Mandatory and Supporting documents as required by ICA for all Singapore Permanent Residence applications. This is aimed at painting an accurate picture of your strengths to reviewing authorities.
Leveraging on Technology: We computerize the filling up of all forms (as opposed to handwritten) to maintain professionalism and to eliminate errors due to illegible handwriting. We also maintain a secured and organised library of all client documents to avoid the hassle of starting the entire application process again from scratch. In the event a re-application is necessary, we will also provide a complete set of editable application forms to you.
Strong Document Package: We will compile and prepare a complete, strong and error-free documents package for submission to ICA in a timely manner to meet the scheduled e-PR submission date. Your documents package will receive adequate scrutiny by our specialists before we formally conduct a handover with you so that any ad-hoc issues that may arise close to the e-PR submission date receives the full and fair attention it deserves.
Get your Free Consultation & Case Evaluation!
Or fill up the form below to arrange a consultation with our us.